The digital Historical Archive of Cologne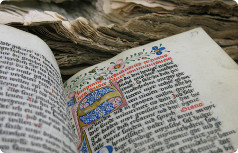 Project partners
» prometheus – Das verteilte digitale Bildarchiv für Forschung & Lehre, Universität zu Köln
» Abteilung für Rheinische Landesgeschichte, Institut für Geschichtswissenschaft, Universität Bonn
Project term:
01.03.2009 – 15.08.2014
Link:
» to the digital Historical Archive of the City of Cologne
Project description
On 3 March of 2009, the Historical Archive of the City of Cologne completely collapsed. Only four days after the catastrophe, "Das digitale Historische Archiv Köln" (The digital Historical Archive Cologne) was launched to reconstruct the holdings of the City Archive on the Internet by bringing together the archival records and to provide immediate support for current research. In addition, the internet portal provides a basis for the reconstruction of the originals.
The digital reading room is intended to offer everyone the opportunity to conduct their own research and to communicate. The aim is to create a lively reading room for exchange with other users, with a pinboard of current projects, and with the possibility of commenting on sources and thus actively adding to the knowledge of the history of the city of Cologne. A digital library with encyclopaedias, journal articles and books complements the archive on Cologne's history.
Of course, the digital Historical Archive is constantly being expanded.
For example, since the beginning of this year, under the section "Restoration Sponsorships", archival documents have been presented that could be recovered but are in need of extensive restoration, as concrete particles and dust have soiled every single leaf and thus severely damaged many pieces.
The project is supported by numerous institutions from the fields of archives, restoration, historical science and art history, first and foremost the professional associations. In addition, almost 400 private persons from all over the world have registered as users in the meantime, who use the digital Historical Archive Cologne and are constantly adding more documents.
Contact persons
Prof. Dr. Holger Simon
Tel.: 0221 470-3509
E-Mail: holger.simon@uni-koeln.de
Dr. Andreas Rutz | Prof. Dr. Manfred Groten
Am Hofgarten 22
D – 53113 Bonn
Tel.: 0228 739766
E-Mail: andreas.rutz@uni-bonn.de