Meta-Image: Development of a distributed virtual environment for research and communication for the discourse of images in art history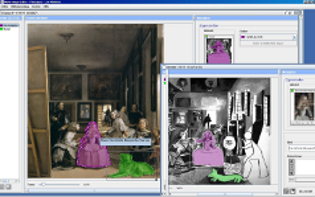 Project partners
» Computer- und Medienservice, Humboldt-Universität zu Berlin
Rechen- und Medienzentrum, » Leuphana Universität Lüneburg
» prometheus – Das verteilte digitale Bildarchiv für Forschung & Lehre, Universität zu Köln
Duration of the project:
01.12.2009 – 30.09.2013
Meta-Image is currently no longer updated and is thus not up to date. The use via prometheus is therefore no longer possible.
Links:
Project description
Aim of the project is to develop a "distributed virtual environment for research and communication for the discourse of images in art history". The project is planned for two years and settled in the area of support "Scientific Library Services and Information Systems (LIS)" of the Deutsche Forschungsgemeinschaft.
For prometheus the primarily point is to expand the possibilities of digital image interpretation 'and the collaborative work within the image archive. By the integration of the genuinely Image-oriented tool "Hyper Image" it will be possible to work together or individually to any of the illustrations to highlight image details accurately, describing and linking them to each other. The released meta-information will later be returned to the archive, available for the entire research community.
Financing:
» Deutsche Forschungsgemeinschaft
Enrolees
PD Dr. Martin Warnke
Leuphana Universität Lüneburg
Rechen- und Medienzentrum (RMZ)
Scharnhorststraße 1
21335 Lüneburg
Dr. des. Lisa Dieckmann
Universität zu Köln
Kunsthistorisches Institut
Albertus-Magnus-Platz
50931 Köln
Prof. Dr. Horst Bredekamp
Humboldt-Universität zu Berlin
Institut für Kunst- und Bildgeschichte
Unter den Linden 6
10099 Berlin
Prof. Dr. Peter Schirmbacher
Humboldt-Universität zu Berlin
Computer- und Medienservice
Unter den Linden 6
10117 Berlin
Project management Leuphana Universität Lüneburg:
PD Dr. Martin Warnke
Tel.: 04131 677 1202
E-Mail: warnke@leuphana.de